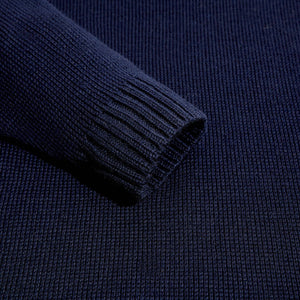 Made from 100% Italian extra fine Merino wool, this is every sailors essential. Like the Guns of Navarone and Das Boot, it's a beautiful classic that will be loved by everyone, you don't have to be a sailor to wear it!
Warm, practical, superb quality.
Fabric: 100% Italian Merino Wool.
Made in England
Submariner Chest Measurements - Pit to Pit taken 2.5 cm below the arm hole
XS 49 cm / S 51.5 cm / M 54 cm / L 57 cm / XL 60 cm / 2XL 63 cm / 3XL 66 cm
Please note this style has a traditional oversized fit. For a contemporary fitted look, we strongly suggest dropping one size down to what you would normally wear, especially if you are looking for a slimmer fit.

Wash Care

Hand wash* with gentle detergent, wool, or baby shampoo
Lay flat to dry on a towel. Do not tumble dry.
*Why we use hand wash only merino wool
Machine-washable merino wool is treated with a heat-resistant substance, which cracks as it is washed and tumble dried. Aggressive washing damages merino, causing the wool to pill more, lose its shape and appear worn quicker than caring for hand wash only fibres.
Overall, choosing hand wash only merino wool means items last longer and they're more environmentally friendly.
Navy Submariners Jumper
Brought this for my husband's birthday. Just needed the next size up which we did in store. Great service. He loves his new jumper. We especially like the fact it's made in the UK.
Submariner jumper
A gorgeous jumper excellent quality and an excellent fit
Usually wear an xl in everything but after reading the shops advice I ordered a size down and it's a really nice fit , five stars out of five for Jack Speak
Great Jumper
Really wonderful , comfortable, warm, its like a nice hug! My wife and daughter love it too... which is a problem!!!
Captain Haddock never had it so good
I was worried about buying this jumper online, but the sizing guide encouraged a L not an XL, as I usually wear, and it's a perfect fit. The reviews seem to rave about the feel and texture of the wool, and I can see why. I can't wait to wear this jumper to a fishing village or down to the docks, because I think I'd blend in like a regular Captain Haddock, if not an upgraded version. Lovely jumper!
Submariner
Just wonderful piece of high quality clothing, thank you