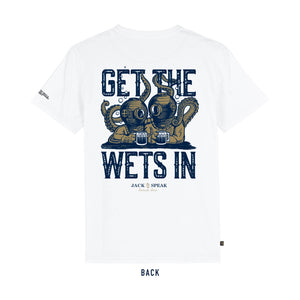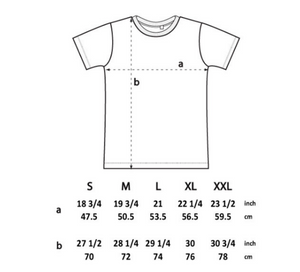 'Get The Wets In' T Shirt - White NEW
Our BRAND NEW JackSpeak T Shirt featuring the winning phrase of our competition chosen by the Commander of the Britannia Royal Naval College, Dartmouth, Captain Roger Readwin.
'Get The Wets In' was selected ahead of over more than 80 other entries and Captain Readwin said "I wanted to choose a phrase that would sit well on someone's back as well as meaning something to me as naval slang".
The 2 old style divers sat at an underwater bar was illustrated in-house at JackSpeak and displays the RNRMC logo on the sleeve as 10% of sales for this T Shirt is donated to the charity.
Designs are printed in navy blue and metallic gold on white on our classic JackSpeak round neck T shirt which is made from 100% quality cotton jersey.
A perfect 'T' to encourage your friends to get a round in!
Fabric: 100% cotton jersey
Size guide: S: 36/38", M: 38/40", L: 41/42", XL: 43/44", 2XL: 45/47", 3XL: 48/50"
Taped back neck
Athletic fit
Crew neck
Incredibly comfy, nice fit and great quality
Great quality
Brilliant t-shirt, great quality. The ironed on patch on the back has some brown staining where the iron has been left on it too long, but as it's on the inside it's not visible when wearing. Might want to turn the heat down or move the iron more next time.
Top notch
Really good quality material. Looks nice on and fits really well.
Not washed it yet so don't know how well the transfer on the back will be
Excellent ****** as usual