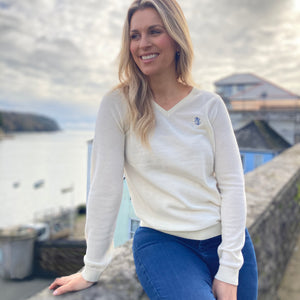 Ladies' Merino V-Neck Sweater - Ecru
A sumptuous fine knit merino wool gives this garment the most luxurious look and feel, light but warm what's not to love about it? Wear with anything and go anywhere in it, this jumper just works!
Fabric: 100% Merino Wool
Wash Care

Hand wash* with gentle detergent, wool, or baby shampoo
Lay flat to dry on a towel. Do not tumble dry.
*Why we use hand wash only merino wool
Machine-washable merino wool is treated with a heat-resistant substance, which cracks as it is washed and tumble dried. Aggressive washing damages merino, causing the wool to pill more, lose its shape and appear worn quicker than caring for hand wash only fibres.
Overall, choosing hand wash only merino wool means items last longer and they're more environmentally friendly.