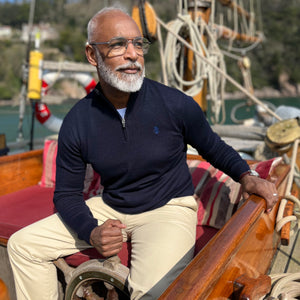 Extra Fine Merino Wool Quarter Zip - Navy
Made from 100% Italian extra fine Merino wool, this is the ideal quarter zip to take you from casual to formal while you splice the mainbrace.
Fabric: 100% Extra Fine Italian Merino Wool. Made in UK
Size guide:
Chest: M: 38/40" M: 40/42", L: 42/44", XL: 44/46", 2XL: 46/48"
Wash Care

Hand wash* with gentle detergent, wool, or baby shampoo
Lay flat to dry on a towel. Do not tumble dry.
*Why we use hand wash only merino wool
Machine-washable merino wool is treated with a heat-resistant substance, which cracks as it is washed and tumble dried. Aggressive washing damages merino, causing the wool to pill more, lose its shape and appear worn quicker than caring for hand wash only fibres.
Overall, choosing hand wash only merino wool means items last longer and they're more environmentally friendly.
Extra fine merino wool quarter zip
Looks great and feels good on, overall excellent
JWH
Great jumper I bought for myself but decided to gift it to my son who is in merchant navy
Great service
Great service and good quality. Love it